WHO WE ARE
Eastern Canada Response Corporation (operating as ECRC-SIMEC) is certified by Transport Canada – Marine Safety, as a Response Organization under the Canada Shipping Act (CSA). As a certified Response Organization, ECRC can provide an arrangement to ships and oil-handing facilities that require an arrangement under Canadian Law.
ECRC's headquarters are located in Ottawa, the capital city of Canada. It provides all of the administrative support for maintaining membership records and the accounting system. In addition, the senior managers in Ottawa provide input to the government agencies concerning any proposed revisions to the response organization regulations and standards under the CSA.
In order to be certified by Transport Canada – Marine Safety, ECRC is required to submit for review a response plan every three years. The plan revision process is ongoing, as response strategies change and new protocols (i.e., beach clean-up, chemical use, in-situ burning and other alternative methods) are developed. In this way, if a large-scale spill ever occurs in Canada, the regulatory agencies and ECRC will be able to move quickly to implement pre-agreed to approaches to these issues.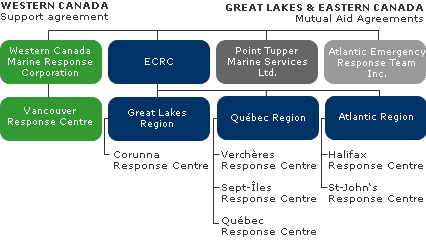 ECRC is the only Canadian RO to provide coverage in all navigable waters east of the Rocky Mountains, except in the Saint John, NB and Point Tupper, NS areas, which are served by local Response Organizations. ECRC owns specialized equipment and maintains contracts with spill response contractors, consultants and specialists.
ECRC has established mutual aid support agreements with the three other Response Organizations in Canada: the two already mentioned on the East Coast as well as one in British Columbia on Canada's West Coast.
ECRC regional response capability is provided, to those parts of Canada which require coverage under the CSA, through its Response Centres in three Regions: Great Lakes, Quebec, and Atlantic.
what we do
ECRC is a private management company, owned by several of the major Canadian oil companies, whose role is to provide marine oil spill response services, when requested, to the "responsible party", the Canadian Coast Guard or to any other Government Lead Agency. ECRC will not assume the role of "On-Scene Commander (OSC)" but will act under the direction of the OSC to provide a plan of action, equipment, resources and operational management in the clean-up effort.
In order to have coverage under the legislation, a vessel or facility requiring an arrangement will have to register with the RO that operates in the Geographic Area of Response (GAR) through which the vessel will sail or in which the facility has its operations. For ECRC, this means signing an annual contract for the Great Lakes, Quebec or Atlantic Regions as applicable and paying a membership fee per contract. An arrangement is in place such that, companies can register with all three of the Response Organizations in Eastern Canada by submitting a combined contract to the ECRC with fee payment. For more details, see "Membership Process and Fees".
Should a member have a spill, or otherwise require the assistance of ECRC, they would call the 24-hour emergency number provided to them. ECRC's call-out process quickly begins to activate ECRC personnel, contractors and equipment to the degree necessary to respond to the size and circumstances of the spill. ECRC has mutual aid support allowing the cascading of people and equipment from the other Response Organizations, including the Western Canada Marine Response Corporation (WCMRC) in Vancouver BC, the Atlantic Emergency Response Team (ALERT) in Saint John NB and Point Tupper Marine Services (PTMS) in Point Tupper NS.
how we do it
ECRC maintains staffed Response Centres at Corunna, Verchères (near Montreal), Quebec City, Sept-Iles, Dartmouth and St. John's.
The Corunna Response Centre is responsible for the Athabasca River, Lake Athabasca, Lake Winnipeg and the Canadian sections of the Great Lakes and St. Lawrence Seaway West of Brockville.
The Verchères and Quebec Response Centres handle the St. Lawrence Seaway and River east of Brockville, and James Bay, Hudson's Bay and Ungava Bay.
The Sept-Iles Response Centre is responsible for the Gulf of St. Lawrence.
The Dartmouth Response Centre is responsible for the coastline of New Brunswick, PEI and Nova Scotia as well as the Northumberland Strait and Cabot Strait shipping areas.
The St. John's Response Centre is responsible for the Holyrood and Come By Chance areas of Newfoundland a well as responding to offshore spills and those arriving on the shorelines of Newfoundland and Labrador.
The Response Centres also have sub-depots where equipment can be stored close to possible response areas The equipment inventories in each Response Centre include specialized containment boom, oil skimmers, boats of various sizes and functionality, storage barges from 50 to 2900 tonnes, communications equipment and all the support equipment needed to keep them operational. You can view examples of these tools on our Equipment page. Our own inventories are supplemented by equipment available from local contractors, many of whom we have trained to act as our dedicated spill responders.
ECRC also has access to management resources that are critical to good decision-making at the time of a spill. In addition to our own full time complement of 47 employees, we have access to a pool of consultants from across North America as well as the resources that have been developed in partnership with government authorities. In addition to stockpiling equipment for immediate response to our client members' requirements, ECRC can rent its equipment and provide supervision to our trained responders for spills by third parties. Special contracts are required at the time of requesting a response, and spill management is not included for non-member responses.
Key among the resources that ECRC has helped to develop is a library of sensitivity atlases. ECRC and Environment Canada have been using advanced geo-referencing computer software to catalogue the critical sensitivity information for the coastline and waterways within our Geographic Area of Response.
ECRC staff use a modified version of the Incident Command System (ICS), called the "Modified Incident Command System" (Modified ICS), as a model for managing its spill response activities.
MICS is designed to meet the response requirements within the Canadian legislative context. It allows ECRC's Spill Management Team (SMT) to manage the operational response from its "emergency" mode to its "project" mode of operations.
The Modified ICS is a structured process allowing the SMT to fulfill its initial response and tactical phase responsibilities while focusing on a movement toward the strategic phase of the response. The response to a marine oil spill can be characterized by two modes.
The Emergency Mode in which the responders are in a reactive phase.
The Project Mode in which the incident is managed in a pro-active manner.
The Emergency Mode is divided into two phases, the Initial Response Phase and the Tactical Response Phase, and can last up to 48 hours.
The Project Mode is also referred to as the Strategic Response Phase and can last from a couple of days to more than a year.